TAKE A GLANCE AT THE B...
As you know the Volkswagen (VW) – a German automaker is the largest automaker by worldwide sales in 2016 and 2017. Ever since the Volkswagen started producing cars it's no surprise there are many high-quality cars suited for families in its line-up. The Volkswagen has an excellent range of family cars to best suit all requirements needed for perfect family voyages. If you are passionate about the Volkswagen legendary brand quality and on a lookout for an ideal VW family car here we are suggesting a few models to consider. All of these cars come in different shapes and sizes, but would be well-suited for your needs.
PASSAT – Safeguards and comforts like nothing before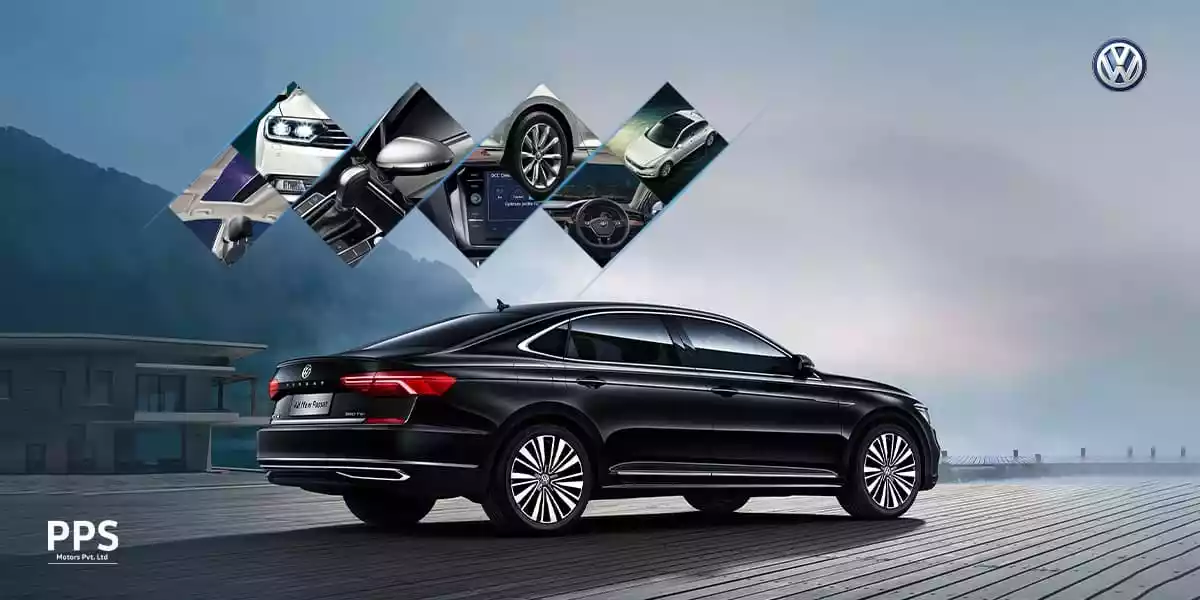 Being a luxury sedan, the Passat has been a pillar of the Volkswagen for some time. The current model provides both luxury and comfort options to experience an incredible driving pleasure. To match with the needs of a family car it comes equipped with advanced technology and Volkswagen's high-performance engine. The Volkswagen Passat Connect Edition's price starts at Rs 25.99 lakh. When you are taking care of your family it's important to maintain monthly budget. Keeping this in mind the new Passat features 'My Volkswagen' which keeps a track on your monthly fuel expenses while the 'Digital Logbook' allows you to view the date, time, duration and costs of your trips in PDF format. It keeps you and your family safe with the Dynamic Chassis Control that ensures your car is constantly aware of its terrain by regulating the suspension features to match the road surface and the current driving situation. With the huge and wide panoramic sunroof you can never miss any lovely insights whilst sitting comfortably inside. When it comes to safety the new Passat offers the utmost safety features to keep you and your family safe round-the-clock. With world-class 9 Airbags, Anti-lock Braking System, park assist, and hill assist & descend control, the Passat is considered as one of the safest cars to drive on the planet. The turbocharged diesel engine with a torque of 350 Nm offers you both superior performance and efficient fuel economy.
TIGUAN – A perfect companion for every journey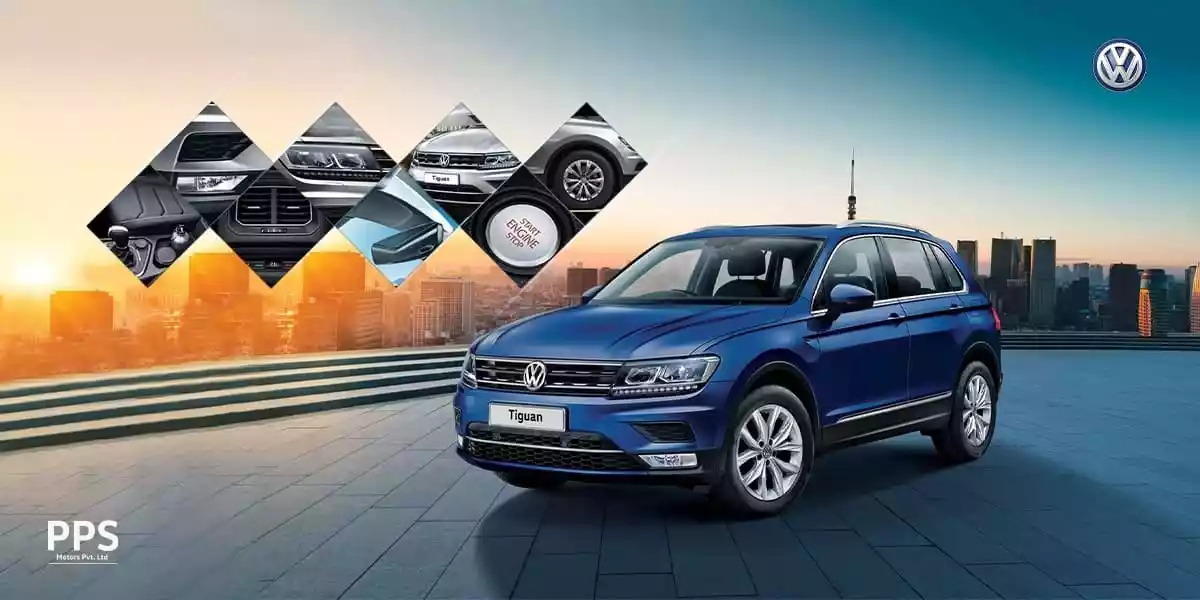 Being a mid-sized SUV in the line-up, the Volkswagen Tiguan is designed for most families and offered with ultimate style options to make it unique in the international automobile market. As a person you can reach to the top only when you experience all sorts of life lessons while you travel an endless journey of self-growth. That is when the new Tiguan offers its hands to be your perfect companion in your every journey.
Making it available at a starting price of Rs. 28 lakh the Volkwagen made it an ideal car for your family with a plethora safety, luxury and advanced technology features. Along with its fresh looks it also offers the plushiest interiors like leather seating, spacious layout, and ergonomically placed controls. The galvanized steel body, 4-wheel drive system, 6 Airbags, Anti-lock braking System (ABS) and Electronic Stabilization Program (ESP) and Hill Hold and Hill Descent Control offers an al-round protection for your family. If you are wondering if you can get both comfort and luxury at one place, yes it is possible with the Tiguan as it gets the drive mode selector, beautiful panoramic sunroof, easy open boot features and much more.
POLO – Affordable yet Powerful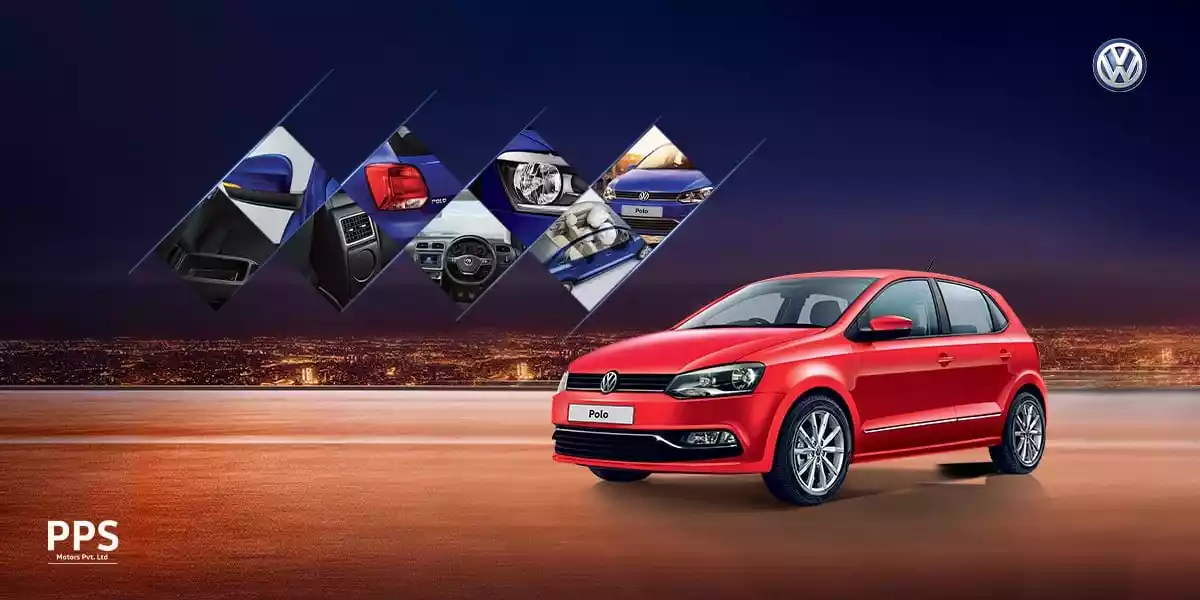 Probably almost all of us are well aware of the greatness and affordability of the Volkswagen Polo as it is one of the most spacious super-minis and the best small family cars around. The polo is famous for its low running costs and excellent handling, and you wouldn't be surprised to know that it has received higher praise from industry experts – What Car? that gave it a 5* review while Auto Express rated it as one of the ten best super-minis to buy in 2018/2019.
With 4EVER Care including a 4 year warranty, 3 free services and 4 year roadside assistance, you can sit back and enjoy thrilling rides. Most importantly, the Polo is offered at an exclusive price of Rs. 5.31 lakh.
For more details about any of the above VW cars you are interested in, you can visit your nearest PPS Motors today and get the best deal of the month. Being an authorized Volkswagen dealer in Hyderabad it is renowned for its genuine before and after sales customer services and state-of-the-art showrooms.
There are
0 Comments
on the post