Waiting Period For VW ...
Volkswagen cars have been preferred cars for Indians since the German maker started selling its cars on the Indian soil. They have won the hearts of Indians with sheer technology & durability and that's why these cars though premium in the Indian market have been hotcakes and the same is continuing with every new model released. The demand for these cars rises peak high during festive seasons and one such season is DUSSEHRA
Keeping in view the demand for the cars and also the festive sanctity we are bringing out the waiting period for Volkswagens this Navratri. Despite the demand for VWs, the good news is that any model from the house doesn't have more than 20-day waiting period provided you book by this weekend. Good news right? So if you are planning to buy a Volkswagen why not buy this Navratri season and bring home the German technology & safe driving with it.
Well, according to a trusted source below is the waiting period for VWs across all the major cities in India.
Here's the waiting period on VW cars across major Indian cities.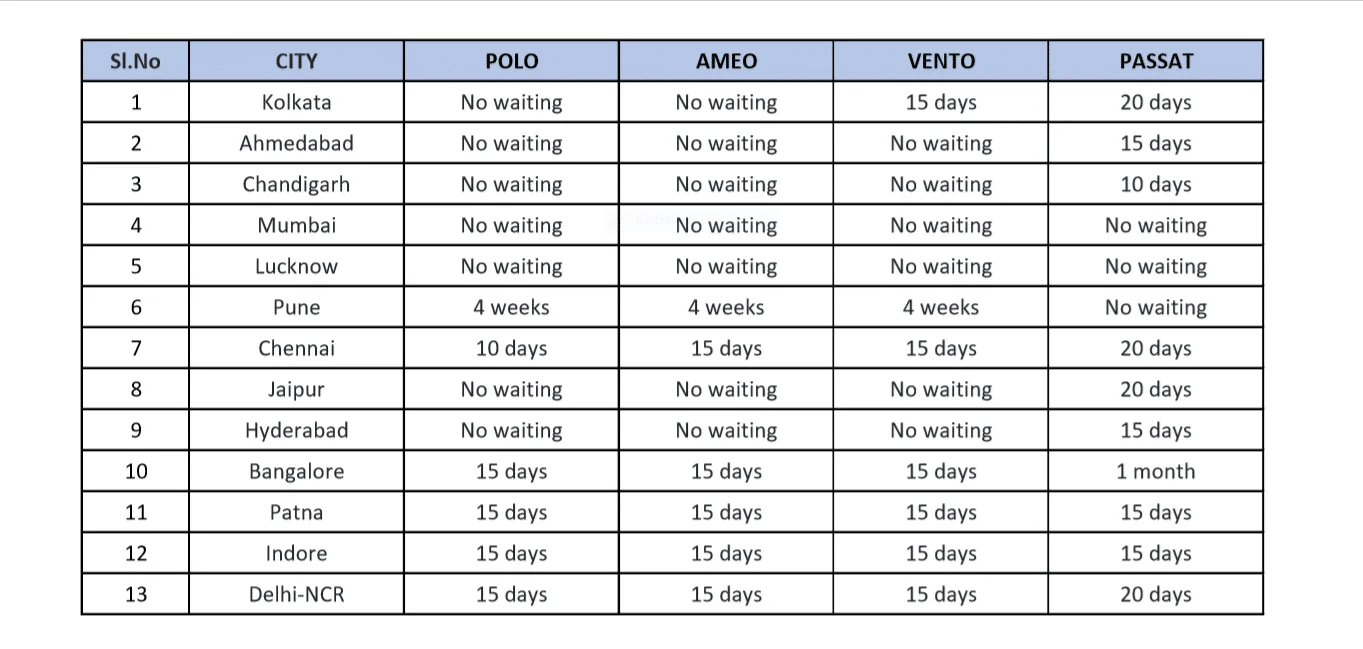 Here are your takeaways:
Volkswagen Polo:
In case Pune is sheltering you and you are in plans to buy the Polo and get it delivered in the Navratri period book it quickly as it has a 4-week waiting period, the maximum waiting period for any VW car in this city. In rest of the cities, you can take a chance by 7 days and still expect to get your car delivered during Navratri. If buying anywhere doesn't matter then you can book it at Volkswagen authorized dealer Hyderabad, PPS Motors as there's no waiting period.
Volkswagen Ameo:
Ameo & Polo both have identical waiting time. Having said this we suggest you hit the showrooms as early as possible if you are planning an Ameo purchase during Dussehra.
Volkswagen Vento:
Vento is nothing less to the above two models. It too has the same waiting period as the above two. So again the best bet to own it would be visiting your nearest showroom by this week.
Volkswagen Passat:
In case you live in Bangalore and wish to drive away Passat in this Navaratri period then we again suggest an earlier visit to Volkswagen showrooms in Bangalore. You can also try your luck at PPS Motors, the authorized Volkswagen dealer in Bangalore. The waiting period for this sedan is one month, the highest in this city. The sooner your booking is the maximum is your chance to see your Passat in your parking lot.
Note: All these waiting periods may be subject to changes based on various reasons & unforeseen circumstances
There are
0 Comments
on the post